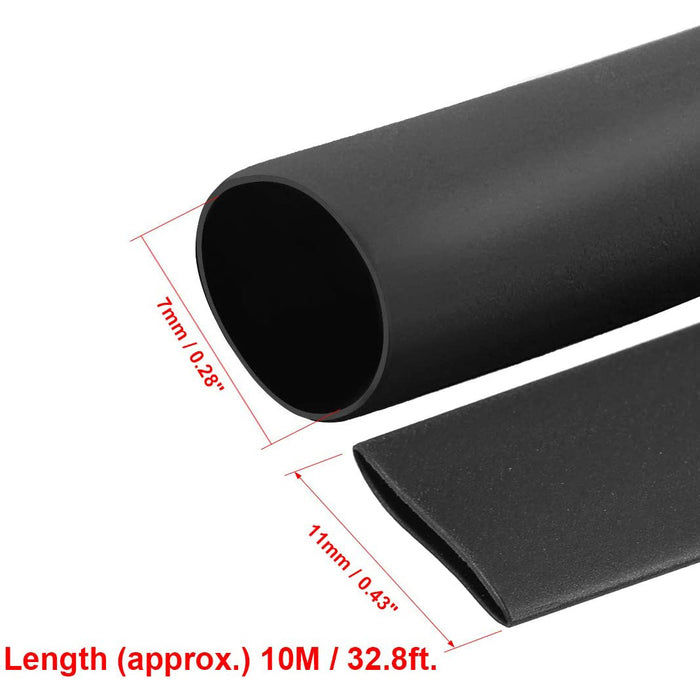 flashtree Heat Shrink Tubing 7mm Dia 11mm Flat Width 10m 2:1 Heat Shrink Tube Wire Wrap Black

This heat shrink tube is best for wire connection, solder joint protection, connectors sealing, group lines marking, resistance electric capacity insulation protection etc.

Features:
- Corrosion Resistance
- Good Electrical Insulation
- High-strength Toughness
- High Temperature Resistant
- Waterproof Resistant
- Long Service Life

How To Use:
1. CHOOSE THE RIGHT SIZE TUBE. Measure the diameter of wire/cable you want to wrap, make sure the diameter is equal to the size of heat shrink tube after shrinked, because the tube will shrink up to 1/2 of original diameter after heating.
2. WRAP THE WIRE WITH THE TUBE. Cut out the length you need, wrap the wire with the tube, use a lighter, hair dryer or heat gun to heat the tube.
3. HEAT THE TUBE UNTIL THE WIRE IS WRAPPED TIGHTLY.

NOTES:
-PLEASE BE CAREFUL WHILE USING LIGHTER OR HEAT GUN.
-PLEASE STAY AWAY FROM WHILE HEATING.

Specifications:

    Material: Polyethylene
    Shrinkage Ratio: 2:1 ( will maximum shrink to 1/2 of its supplied diameter )
    Minimum Shrinkage Temp: +70 Degree Celsius
    Full Shrinkage Temp: +125 Degree Celsius maximum
    Operating Temperature:-55 to 125 Degree Celsius
    Rated voltage: 1000V
    Dielectric strength: 1 KV
    Flammability: VW-1, Flame Retardant
    Item Shape: Round/Flat

Diameter(Before Shrinking): 7mm / 0.28";Flat Width: 11mm / 0.43"; Length(approx.): 10M / 32.8ft; Shrink Ratio: 2:1.

Operating Temperature: -55 to 125 Degree Celsius; Flammability: VW-1, Flame Retardant.

Minimum Shrinkage Temp: +70 Degree Celsius; Full Shrinkage Temp: +125 Degree Celsius maximum.

Our Heat Shrink Tubes are perfect for appliance/auto electric wire cable harness wrapping, which will be protective in harsh environments.

Fast and Easy Use, can be customized at home to fit your need, solve your problems within few minutes.